We're doing plant starts again this year – peppers, tomatoes and eggplants. We will also be doing artichoke plants again and hopefully be including herbs. Last year we sold out within 3 weeks so I wanted to give you all a chance to pre-order them so you can get the varieties you want. We will also be increasing our production along with adding more varieties. If you want specific varieties please let me know (contact us below) and I will make sure I have plants set aside for you. They are $3.50 each or 3 for $10. They will be available for planting around mid March. We will also hopefully be selling them again at Moschetti's as well as a possible second location (stay tuned).
Last year we attended a tomato tasting and then held our own tomato tasting event. Our primary focus was finding tomatoes that were not only productive but also had exceptional flavor. Some of the varieties we grew last year didn't make the cut but we found many more to take their place.
The varieties are:
Eggplant Varieties
Diamond – A good, productive Japanese style eggplant. Very good sliced, marinated and grilled.
Pepper Varieties-Hot
Anaheim (Nu Mex Joe E. Parker) – These are the perfect roasting peppers. The thick skin easily blisters and can be peeled away after roasting. They are mild to medium heat. Not quite as productive as the smaller hot peppers, but they do give a good harvest when picked continuously.
Cayenne Slim – Very productive plant of HOT peppers. Walls are thin so they dry quickly. We dried the peppers (they readily dry on the plant) and then ground them into red pepper flakes. We now call them Satan Flakes because of their excessive heat.
Craig's Grande Jalapeno – Sometimes you just want a middle-of-the-road hot pepper. We generally haven't had much luck getting jalapenos hot enough for our taste, but this year we're going to give this variety a try and see if we can see some success. No other pepper seems to work as well as the trusty jalapeno for escabeche.
Mustard Habanero – I got several emails this past year from people that were very happy with these plants. If you want your peppers to be spicy make sure to grow them next to a habanero plant. This was a trick I learned from a friend and was surprised to find out that it works! These are productive plants with EXTRA HOT peppers.
Serrano Tampequino – Another very productive pepper with thick walls that are perfect for making hot sauce. The original variety used to make Sriracha Hot Sauce. Also very hot, but not as hot as the Cayenne Slim.
Pepper Varieties-Sweet
California Wonder – The standard green and red bell pepper for California. Good production with thick walled fruits.
Etuida Bell – When I read that this was considered one of the best tasting peppers out there, I had to try it. It is a productive producer of very large, thick skinned fruit.
Horizon Bell – This is a pepper to replace the Orange Bell as it is more productive while not sacrificing flavor.
Jimmy Nardello – We got a LOT of requests to grow this pepper. It looks like it will be hot but ends up being incredibly sweet and flavorful. It's an Italian frying pepper that is productive and has earned itself a place on Slow Food's "Ark of Taste."
Purple Beauty – We grew this on a whim last year and were surprised at how well it sells. It produces a multitude of medium sized, thin walled purple fruit that are easy to find in among the foliage.
Quadrato Asti Giallo – This has been our most productive bell pepper giving us good sized, thick walled fruit all through summer. This is an Italian pepper that is green slowly ripening to yellow.
Tomatoes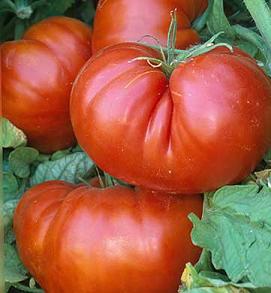 Aussie – This large red tomato is a replacement for Brandywine, which is popular, but just can't win the taste tests like Aussie can. Aussie offers a very well balanced old-fashioned tomato flavor in a large, 1lb package on large vigorous plants.
Cherokee Green – A green beefsteak that has a bold, bright flavor with acid. My husband says it's "zingy." Best flavor of the green tomatoes. Very productive plant. Just keep an eye on it so you don't wait too long to pick the fruits which will have a yellow hue with ripe.
Dixie Golden Giant – A whopper of a tomato coming in at almost 2lbs, this lemon yellow tomato has an incredible mild and sweet, fruity flavor. Shows some disease resistance and like most Amish varieties is very productive.
Green Zebra – Small 2-1/2″-3″  salad tomato that is green with darker green stripes. Fruit is sweet and "zingy." Very productive plant if you can find all the fruit! The light green will have a yellow hue when ripe. Makes a really good green pesto bruschetta.
Henderson's Winsall – The original Winsall variety obtained from the USDA Seed Bank. A pink beefsteak heirloom that is nearly seedless. It is a late variety but the superb flavor is worth the wait.
Hillbilly – Big yellow orange beefsteak with red streaks. Husband describes it as "rich, meaty, tomato-y goodness." The favorite tomato around here. Few seeds and very fleshy.
Mr. Stripey – For whatever reason, many striped tomatoes tend not to have as much flavor as their solid colored compadres. I surmise that it is due to the coloring of the striped tomato being the primary focus, rather than the flavor. Mr. Stripey, fortunately, is not one of them. These are smaller salad size tomatoes with a rich, tangy flavor.
Rosso Sicilian –  This is an Italian heirloom with small to medium sized ribbed fruits that are firm and meaty and perfect for making sauce and paste. Bruises easily. Rated as one of the better tasting tomatoes we grew last year.
Super Sioux – A variety of Sioux that takes heat and drought better. While Sioux is better for fresh eating, Super Sioux is better suited for canning.
Tangerine – This is our replacement for Kellogg's Breakfast. A productive yellow-orange beefsteak with improved flavor that is meaty, sweet and rich.
Thessaloniki – A red Greek tomato that resists cracking and sun scald. Fantastic old fashioned acid tomato flavor. I have farmer friends that say they only will start selling the fruit from this variety after they physically can no longer eat them.
Wapsipinicon Peach – A small yellow tomato with an unusually fuzzy skin. Productive plant of very, very sweet, mild fruit with a hint of peach. Husband says "sweetest tomato I've ever eaten."
Sorry, we are no longer taking pre-orders for this season. Feel free to visit The Hub in Vallejo at 350 Georgia St in downtown on Saturday mornings from 10am -2pm to purchase plants. Thanks!
Tomatoes (not available at this time)
Cherry Tomatoes
[table id=35 /]
Paste Tomatoes
[table id=33 /]
Slicing Tomatoes
[table id=34 /]
Beefsteak Tomatoes
[table id=32 /]
Disease Resistant Tomatoes
[table id=36 /]
We also have the following Herbs:
Rosemary
Thyme
Greek Oregano
Chives
Tarragon
Sage
Beans
[table id=56 /]
Corn
[table id=48 /]
Cucurbits
Cucumbers
[table id=52 /]
Melons & Watermelons
[table id=50 /]
Summer Squash
[table id=49 /]
Winter Squash & Pumpkins
[table id=51 /]
Eggplant
[table id=14 /]
Peppers
Hot Peppers
[table id=54 /]
Sweet Peppers
[table id=55 /]
Sunflowers
Tomatoes
Cherry Tomatoes
[table id=46 /]
Paste Tomatoes
[table id=44 /]
Slicing Tomatoes
[table id=45 /]
Beefsteak Tomatoes
[table id=43 /]
Disease Resistant Tomatoes
[table id=47 /]
In addition we are growing the following herbs:
Apple Mint
Broadleaf Sage*
Calendula
Catnip*
Chamomile*
Chives*
Cinnamon Basil
Clary Sage
Comfrey
Dark Purple Opal Basil
Genovese Basil
Giant of Italy Parsley
Greek Oregano*
Lemongrass
Lime Basil
Marshmallow
Mustead Lavender
Peppermint
Pleurisy Root
Rosemary
Sweet Marjorum
Thai Basil
Thyme
White Horehound*
Wormwood
* Plants are available March 24th, 2018